---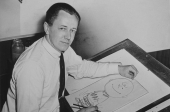 On this date in 1922,

Charles Schulz

was born in Minneapolis, Minn. After graduating from high school, Schulz took a correspondence course from Art Instruction Schools, Inc. In 1943, Schulz was drafted into the army, where he served as a staff sergeant in France and Germany until 1945. After the war, Schulz worked as an instructor for Art Instruction Schools and did freelance cartooning. Beginning in 1947, he drew a comic strip, "Li'l Folks," for the St. Paul Pioneer Press. In 1950, the United Feature Syndicate agreed to distribute the strip, although they renamed it "Peanuts." By 1953, "Peanuts," with its now-iconic lead character Charlie Brown, was a hit. Over the years, Schulz received many awards and licensing deals for his work, and wrote several "Peanuts" animated television specials and movies. He had married Joyce Halverson in 1951, and the couple had five children before divorcing in 1972. In 1973, Schulz married his second wife, Jean Forsyth Clyde. In 1999, Schulz was diagnosed with colon cancer, and announced that he was retiring, but new strips would run daily until Jan. 3, 2000 and every Sunday until Feb. 13. (Schulz was able to produce strips very quickly and often worked many weeks ahead.) The night of Feb. 12, Schulz died in his sleep.

Schulz was raised a Lutheran and as an adult served as a Methodist Sunday school teacher for ten years. In the 1980s and 90s, however, Schulz began to describe himself as a "secular humanist." Schulz's characters continued to quote the bible, discussing religion's inconsistencies among their other philosophical musings. Some readers have taken Schulz's repeated Halloween storyline, of the character Linus's persistent belief in the Great Pumpkin, who is said to bring toys to the most sincere pumpkin patch, but never shows up, as an allegory on religion, although Schulz did not claim any such thing, and often said of "Peanuts" that he was just trying to write funny strips on time, not to expound any profound philosophical points.

D. 2000.
"The best theology is probably no theology; just love one another."
— Charles Schulz, quoted in his obituary in the Chicago Tribune, Feb. 14, 2000
Compiled by Eleanor Wroblewski